From the July 2019 issue of the Harbour Towne Condo Association (HTCA) Newsletter.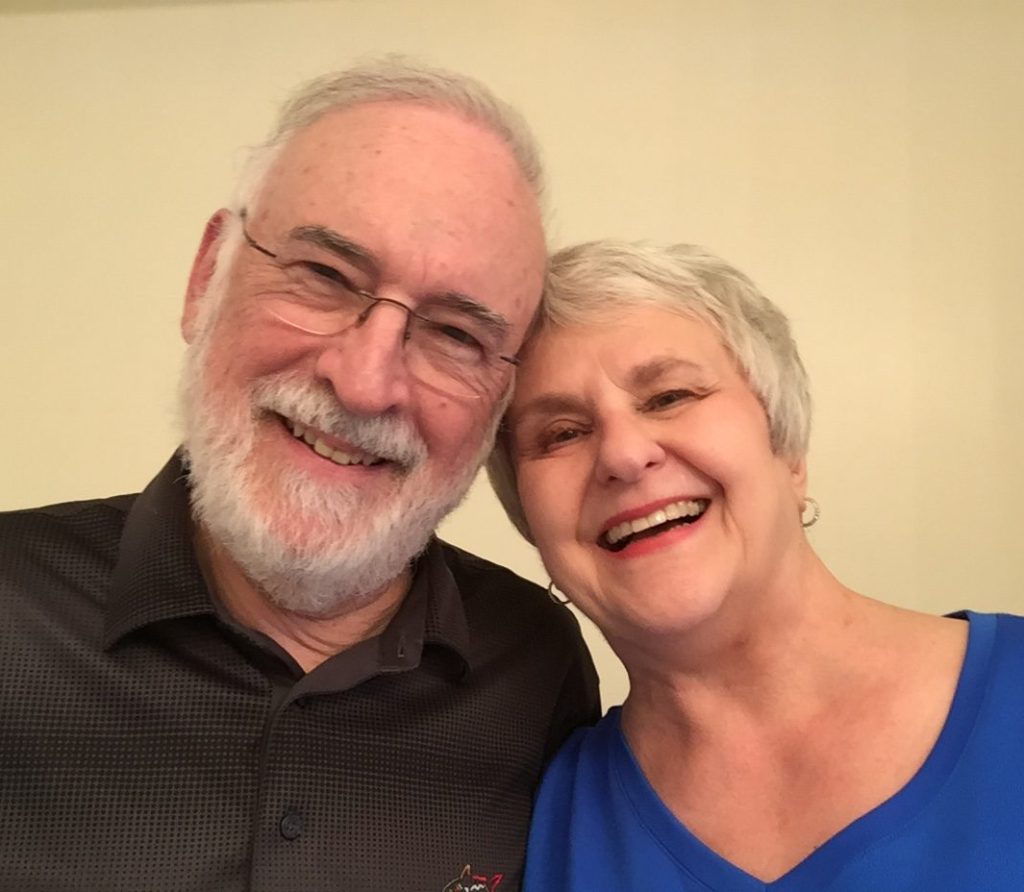 Steve and Marge LeBel

How/Why we moved to Harbor Towne.

On July 4, 2006, we were in town having dinner with a friend at Docker's. We remarked how much we loved the beauty and peacefulness of Muskegon. Our friend asked if we ever thought about moving back. Next thing we knew, we were viewing the model condo in Harbor Towne. We took copies of the floor plans back to Flint where we'd lived since getting married in 1970. We both liked the Town House model and decided to contact a realtor. We drove back the following weekend. The decision to leave our friends and family – we have one married daughter and several furry grandkitties – was difficult. We eventually settled on the first condo we'd seen, the one with the great western view of the pond. We signed a contract in August and closed in January of 2007. At that time, we still had an Internet business and a house to sell in a bad housing market. But, it all worked out. We sold the house and the business within a week of each other and drove straight to our new condo, the summer of 2007. We love it here.

About Steve
Steve grew up in Muskegon, graduated from Mona Shores HS, and received degrees in psychology and counseling from both MSU and U-M. He began a career in counseling and eventually spent 17 years as president of a mental health and substance abuse hospital before retiring in 1997. The retirement didn't take, and he started an Internet company (website design and hosting), running it for 10 years before selling the company and moving back to Muskegon where he became interested in the stock market and spent 6 years writing computer programs to do his trading. Five years ago, he started writing young adult fantasy novels (like Harry Potter and Percy Jackson); his books have won 16 national and international awards.
About Marge
Marge is a retired math teacher. She taught both Junior High and Adult Education in the Flint Community School system. Retiring in 2000, she was then drafted into Steve's Internet company as the bookkeeper and still does the books for Steve's publishing company, Argon Press. Growing up in Dearborn, where there is mostly cement, she loves the wildlife here, especially the waterfowl. She loves to read and paint. Her painting hobby lead to a surprising second career as a commissioned portrait painter specializing people and animals. Marge has won local and international awards for her work.
HTCA Involvement (Steve & Marge)
Steve helps out on HTCA projects from time to time, including playing a principle role in the creation of HTCA's CCIS (request system), early work on the HTCA website and hosting, as well as several advocacy projects over the years.
Marge is the chairperson for the Welcoming/Social Committee. She feels strongly about welcoming every new owner, introducing them to our community, and giving them the chance to ask questions of current residents. She also enjoys helping plan the Summer and Holiday parties.
More Stuff
Steve and Marge love to travel. In the last two years, they've been to Egypt, Italy, Spain, Algeria, Washington DC, and Florida. In the next year, they have trips planned to Japan, Scandinavia, Finland, Estonia, and Russia. They love hearing people's travel stories.
Naturally, they both have websites: https://stevelebel.com and http://margelebel.com
We love it here. We enjoy our condo friends, the Big Lake, and the wildlife