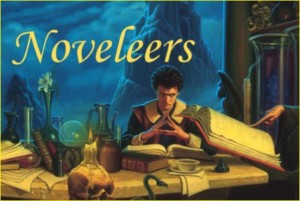 I had the pleasure of attending one of the writing groups in our area. It has been fun to meet people who are serious about writing and getting published.
I also met an individual there, Bob Jackson, who has very similar interests to my own (fantasy, sci-fi, etc.). He has published one novel and has another scheduled to be published by December. We met and talked a few times and decided to create a new writers group for people who are working on fiction novels. We even created a website for it called "The Noveleers" (www.noveleers.com).
The Noveleers Group now has four members.  We decided to meet every other Tuesday at the Norton Shores Library to review our work and strategize on publishing issues.  We had our first meeting this week.  I think this will be a successful means for getting our work published.
This writing stuff is fun!