For those of you who haven't heard, our trip to Italy did not go as planned.  On the second day, we were on a Hop On / Hop Off Bus taking us around Rome.  It was raining, so the next time the bus stopped, we decided to go down from the upper deck to the lower deck.  Unfortunately, I slipped and fell on one of the steps and broke my lower leg in two places, plus some radial fractures.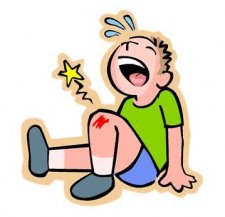 They rushed me to one of the Italian hospitals where I was admitted.  This was last Saturday.  They have a waiting list system here so I was given a bed and told they would get to me maybe on Wednesday or Thursday, although it might not be until the week after.  As a temporary measure, they drilled a hole through my heel, put a wire through it and then put a weight on the end of the wire.  The goal of all this was to keep the bones in my leg pulled apart so the broken edges did not clash together, which is where the real pain comes from.  Then, of course, you have to lay flat on your back day and night to make sure you don't have any further aggravation of the injury.
Surgery was, thankfully, on Wednesday (only a four day wait).  It went well.  I ended up with a titanium rod inserted through my tibia (plus a couple pins to hold it in place).  The broken fibula apparently will heal itself as long as it has a nice strong tibia to support it.
To my surprise, I don't have a cast.  Also to my surprise, my leg is very stiff (ankle and knee), and every time I get some mobility back in one part, I lose it just as fast in the other.  I have some crutches, the kind with the curved  grips around the wrists and I made excursions (hopping on one foot) to important places like the bathroom (a pure joy to be able to go yourself).
Marge has been a great help during all of this.  Providing me with moral support, canceling parts of our trip, arranging for faster return home, and much more.  We met some local people who have been terrific in helping with translation issues and transportation.  One of them even brought in some non-hospital food for us to share.
I was discharged on Friday night, and one of our new friends took us to the hotel.  He will pick us up Sunday morning and transport us to a new hotel closer to the airport.
Marge managed to get our flights changed to Monday, so we are just waiting for the flights.  She managed to get them upgraded to first/business class which is critical because I have to keep my leg elevated whenever possible.  The second I lower it in the direction of the floor, it fills with pain and starts swelling up like a sausage.  My doctor said he wrote this requirement into my treatment plan.  Do you think Blue Cross will cover it?
We have had several volunteers (Jerry, Ken, Dad and Roger) to help get us from Grand Rapids back home for which we are very grateful.  Not sure what that plan looks like but I know they were talking about it.
I am grateful for all the prayers and well wishes and good vibes being sent my way.  Thank you all for your support.  We both appreciate it very much.
Steve